iPhone versus Clie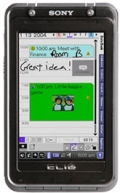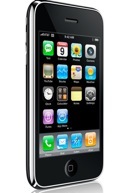 I've owned a Palm or Clie device (which used the Palm OS) for 8 years. I used them as my PIM and as an eBook reader. My very first blog post was about eBooks, back in 2001. But my needs for a calendar are slim (but not zero), and my need for contact information is confined to making phone calls, which my devices couldn't do, or sending Christmas cards, when I'm at home. So eventually my latest Clie, the TH-55, sat on my bedside table as my bedtime eBook reader.
Now I have an iPhone 3G and Fictionwise has ported my eBook reader to the iPhone platform. I'm thrilled to say the phone has subsumed all the Clie's functionality, plus it's a phone and an iPod. Its screen is beautiful, it's the same size as the Clie, and the fact that it's a phone means it now matters that I have contact info. The fact that it's always syncing with my computer means it's a great home for my calendar data. I'm very happy!
Now I need to think of a useful app to bring shelfcentered functionality to the iPhone!
Farewell, Clie, we hardly knew ye.